Yesterday was a pretty big day for us here at Awards Writers. Instead of being at home awaiting news from awards ceremonies, our chief wordsmith Louise was giving the opening speech at a set of awards we created.
Before you ask, we didn't write entries for anyone (that wouldn't be ethical!) but instead teamed up with business support organisation BiY to create the BiY Inspired Awards for micro and small businesses across Yorkshire. Louise also chaired the judging panel, which included Darren Shaw, MD of BiY and Simon Hartley, of Be World Class.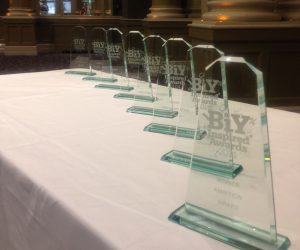 The awards were an idea we've had buzzing around for about two years now as research told us there were none for small businesses in Yorkshire.
We couldn't quite believe it when we kept turning up blanks as potential clients approached us to ask what there was available for them to enter.
Sure, you could have a crack at the Yorkshire Post's awards, but as a small or micro business you'd be in a category which included companies with turnover up to £10m. A pretty tough nut to crack, we'd argue.
So, necessity being the mother of invention, we created the BiY Inspired Awards and yesterday held an awards lunch for more than 70 people at the beautiful Met Hotel in Leeds.
Louise opened with some facts about small businesses from the Government's latest analysis:
of the 4.5m businesses in the UK, 4.3m employ less than 10 people
those businesses account for 32% of business turnover and employ 18% of the workforce
in Yorkshire there are 354,000 businesses. A whopping 99.7% of these employ less than 249 people
That's an amazing contribution to our economy, providing jobs and working with the larger corporations which seem to get so much coverage in the regional media that you might be forgiven for thinking that SMEs don't matter.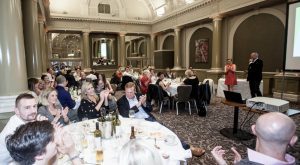 So yesterday we celebrated all of the Davids working with Goliaths; all of the small businesses batting out of their league; the one-man (or woman) bands making money from their passion, and the next generation of business leaders.
There were tears on more than one occasion as we celebrated all that's great and good about small businesses. From more than 100 entries there were around 30 companies shortlisted as finalists, but only one winner for each category.
Some made a small speech afterwards, others were too emotional and one battled through the tears of pride to celebrate her company's roots, growing from company started by a"husband, wife and his brother" to one which employs 17 people and has six-figure contracts with a long list of companies that reads like a who's-who of the public sector.
So, in case you missed it, the winners of the BiY Inspired Awards 2014 were:
Ambition– for a micro-business which might be small but which is perfectly formed, with an ambition to go even further.
Winner: CooperVance Recruitment
Transformation – for a small business which doesn't look anything like it did when it started.
Winner: PMG Print Management
Next Generation – for a dynamic business owner under 35
Winner: Illiya Vjestica of The Presentation Designer
Rockstar – as SMEs we stand and fall with our reputation and nothing loses clients faster than bad customer service.
Winner: Pixelbuilders
Out of their league – big businesses couldn't exist without small businesses providing essential goods and services, because small businesses can provide big value.
Winner: Circuit Electrical
One to watch – for businesses on the cusp of great things
Winner: ADS
Solo – you don't have to have offices and a team of 100 to run a successful business. This award is for the person who has identified a niche and is successfully filling it primarily by themselves.
Winner: – McFade Photography
Judge's Choice – to reflect BiY's dedication to the perfect proposition, this award was for the best proposition in 50 words or less.
Winner: Union
We look forward to building on this year's success and, working with BiY, opening the awards again in 2015 so that even more Yorkshire micro and small businesses can have their time to shine.